So let's see if i got this straight. A kid disassembles a clock and sticks the guts into a pencil case and claims he made it a clock. See picture: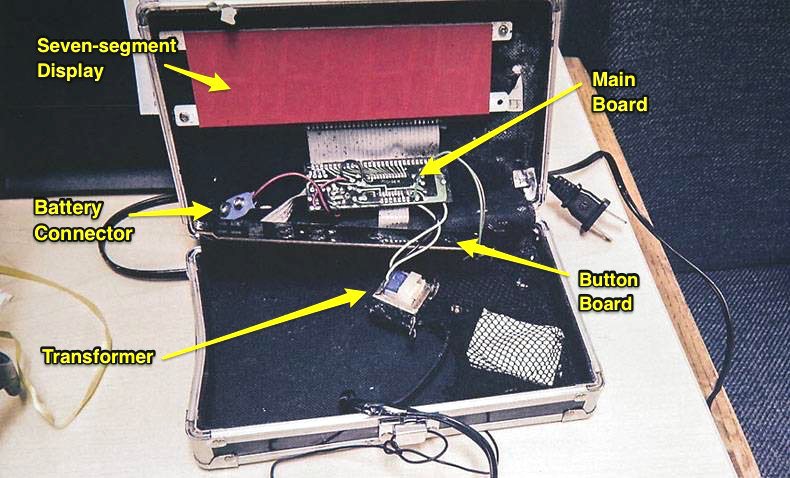 Teacher, principal and cops see a jumble of wires and see a bomb and because of bs zero tolerance policies in schools that see everything as a weapon, drawings of guns, PopTarts™ eaten into the shape of guns, etc, kid is arrested and cuffed. See picture: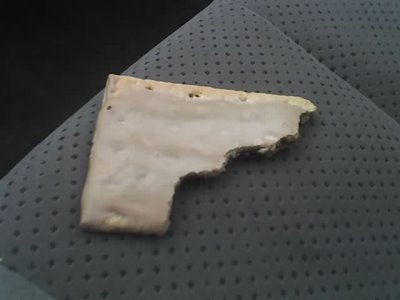 And let's not forget the warning by our ever watchful Homeland Security Department, "Be vigilant about noticing and reporting any out-of-the-ordinary situation." Just saying.
Of course now CAIR and the race baiters are in high dudgeon because the kid is brown skinned and Muslim and O'Clowna is inviting him to the White House because it's so cool to pull the guts out of a clock and put it in a pencil box and call it a clock.
Of course the kid claims he's in trouble because "I look like a threat because of my brown skin."  And of course the kid's Dad and CAIR "think it's because of Islamophobia and the [impact] of 9/11." Of course, of course. However how would that explain Steve Wozniak being arrested for making a fake bomb back when he was a senior in high school?
http://www.independent.co.uk/news/people/ahmed-mohameds-in-good-company-apples-steve-wozniak-was-arrested-for-making-a-homemade-bomb-clock-10504964.html
Last edited by Gomezz Adddams on Thu Sep 17, 2015 10:10 pm; edited 1 time in total



Posts

: 2962


Join date

: 2012-12-22




Too bad the MT suit HMWAIC couldn't share some of this compassion with the families of cops gunned down by blacks.

Go figure.



Posts

: 2842


Join date

: 2012-12-26


Location

: Right here



Not surprising but this whole episode is beginning to smell worse than a baby's diaper. Not only didn't the kid invent anything but it appears the whole she-bang was a setup.
First off this video demonstrates that you don't even have to be a "genius" to invent this "clock". What a hoot.
It also appears that O'Clowna commented on the "kewl clock" with out ever having seen it. WTF?
She later noted that the president had tweeted about the case and invited Ahmed to the White House before the pictures of the clock were even publicly available. Obama made no attempt to contact her office before making public comments in support of the Muslim teen.
The whole incident appears to have been a publicity stunt to paint the Irving mayor with accusations of "inflammatory anti-Muslim rhetoric" and fostering a "climate of fear" because of attempts to oppose sharia arbitration courts in Irving  by proposing and getting a law passed forbidding the establishment of sharia courts.
http://pjmedia.com/tatler/2015/09/22/the-strange-story-of-ahmed-mohamed-his-suspiciously-bomb-like-clock/



Posts

: 2962


Join date

: 2012-12-22



Quiet you bigot!!!!!
Everyone knows the scientific advances that Mooslims have made throughout history. This boy genius, took apart a Radio Shack alarm clock and placed it into a case. If that isn't brilliance what is? Once he gets his first chunk of high explosives he will show you!



Posts

: 3480


Join date

: 2012-12-26


Location

: SE SD



Similar topics
---
Permissions in this forum:
You
cannot
reply to topics in this forum